This is me, Paul Voytinsky, in Russia usually addressed as "Pasha" or "Uncle Pasha".
"Uncle" here is a title of respect that at the same time hints as the addressee's humble social status. An ambiguous and somewhat self-contradictory form of address, as are most things in this Bizantinesque land.
Since 1994, when I made one of my life's major errors of believing Russia will change its twisted ways, and dragged my ass back here, I've been teaching English, assisting travellers, and doing miscellaneous errands ranging from helping in a Russian wife quest to busines scouting and compiling industry reports.
A list of my sites and projects, active, barely alive, or dead, is at unclepasha.com.   How can I be of assistance to someone contemplating a trip to Russia or even doing business here? Write to info@kandalaksha.su.
Full contact details are here.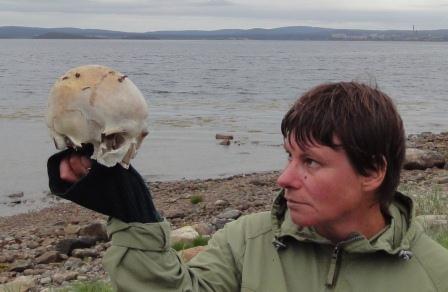 My most involved colleague and the next in charge is Alexandra, a historian with specialization in arctic biological stations and weirdos who set them up at the time when a reasonable man would be busy saving his behind. She is depicted with a skull because one of her jobs is measuring Common Eider eggs with a vernier caliper in the islands comprising the Kandalaksha Nature Reserve whose site she administers. Finding dead human bodies in various stages of decomposition is an unavoidable side product of monitoring bird population on White Sea islands. Alexandra's main site is www.alexandra-goryashko.net. If I appear to be out of circulation for whatever reason please write to Alexandra to alexandragor4@yandex.ru. She thoroughly knows my affairs and my clients, usually participates in my projects quite actively, understands written English perfectly well, is in the habit of replying fast and to the point, and will most definitely help you if/when I fall out of circulation.
Close colleagues
I'm no longer in Moscow but if you are looking for all-around support services of the sort I was providing, contact my most formidable competitor Olesya. See www.russiangirlfriday.com She is thorough and reliable but her e-mail answering habits are, well.. But once get starts working she is entirely OK. SHE IS IN A GOOD POSITION TO HELP RUSSIAN BRIDE SEEKERS.
If you are contacting me about the Staritsa period of my life, I'm pleased to say that the dacha and horses project is still alive in Dima's capable hands. See www.russian-horse-rides.com or write to senior.polyackoff@yandex.ru with a copy to me, to info@kandalaksha.su. I no longer have any official connections with the project but monitoring the progress of foreign visitors going to my former dacha, especially if these are new to Russia, is something I still do out of habit.
This Post Has Been Viewed 1,400 Times