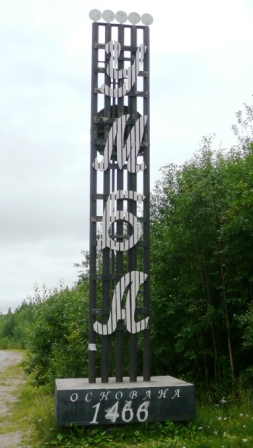 Umba, population ~5500, is the geographic, historic, and administrative center of Tersky Rayon (district). There is no settlement called "Ter" though. "Ter" (adjective "Tersky") refers to the whole of the south edge of the peninsula because unlike most of Kola it is (was) covered by forest.
110km east from from Kandalaksha, average road quality, travel time close to two hours unless you hire a crazy Russian driver who'll make it in one but the number of wreathes and black ribbons by the road and car carcasses in the ditches makes me thing it a bad idea. I can avail my services to go to Umba. $250 will cover a one-day trip.
Bus from Kandalaksha to Umba runs twice a day. For departure times call the Kandalaksha bus station at (81533) 43501.
THERE IS AN AIRPORT IN UMBA – BUT THAT'S A SEPARATE STORY. YOU CAN EVEN RENT A HELICOPTER FOR $3000 PER HOUR!!
See Categories > South Edge of Kola > Umba below for accommodation, art and culture, fishing, business scene etc. Or do a search on Umba. A must to visit is the Ametist Store and Workshop. The Search button is at the top of the left sidebar.