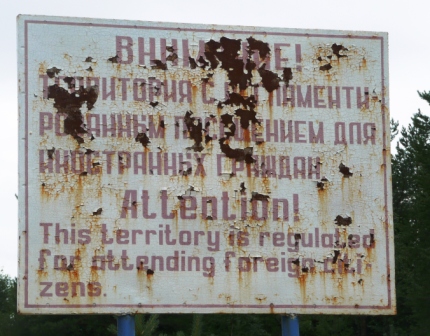 Based on June 21 2007 article on the Pechenga site. Since them the exact areas marked as restricted may have changed.
The 10km wide stretch along the Barents sea shore from Krestovy Mys (=cross cape but what out, there are lots of places with "krest" in them; there was a time when every sailor who narrowly escaped death would put up a cross on the nearest hill, and there were lots of such sailors) to river Voronya (=crow). River Voronya is 100km east from Murmansk. I wasn't able to identify the Cross Cape but was told it is at 67°53.8242N, 40°20.0539E.
The area enclosed by the Kola to Pechenga railroad and Kola to Tumanny (=misty) highway. Restrictions DON'T apply to towns themselves or to the roads. Also Murmanks itslef is OK if you get there by train or car.
On the south edge of Kola it is one kilometer strip along the shore from Cape Kochinny (between Porya Guba and Umba) to Cape Tury 15-20km east from Umba.
There is unconfirmed information that you can stay up to 24 hours in these restricted areas.
During dry season access to forests may be restricted but no sign are posted. Ask the locals.
I'm looking for information on what happens if you get caught. I was once in 1993, before I got my Russian citizenship back, but these were very liberal times compared to now. I was let off with no consequences and allowed to continue along the restricted highway towards Nizhni Novgorod.
What are your chances of getting caught? We were approached by the police once during our stay in Kuzomen, and probably only because I was taking a walk at 2am in an area where salmon poaching is the core of the village economy. But locals have recently been instructed to report suspicious persons, and spy mania appears to be on the rise. So I would make every reasonable effort to stay on the right side of the law if I was like you foreigners.
This Post Has Been Viewed 251 Times