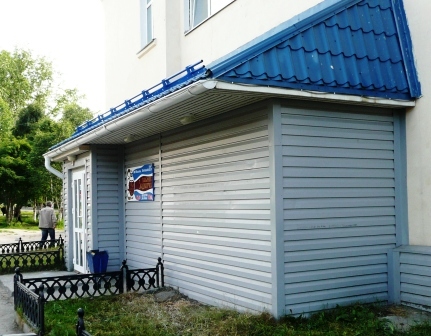 Ulitsa Pervomayskaya 45. Tel. (815-33) 94260. Open noon to 10 pm. RECENTLY CHANGED TO NOON TO MIDNIGHT, WHICH MAKES IT PERHAPS THE ONLY LATE NIGHT WATERING HOLE IN TOWN
Same building as Restaurant Kanda and "Kulinaria" but enter "Zadvorki" from the back and go down to the back.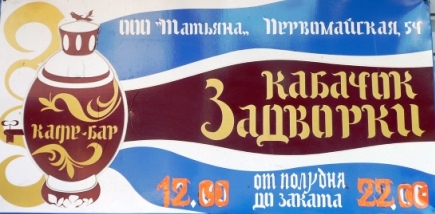 "Kabak" means "tavern", "kabachok" is "little tavern". "Kabachok" may also mean "zucchini". "Zadvorki" is "back streets".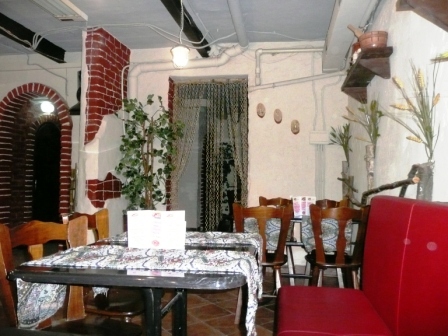 Specialization: pizza. Vegetarian pizza available.
Two fish patties (misnamed "bifshteksy", "beaf-stakes"), baked zucchini and tomatoes, a salad, and a coffee (the strongest so far found in Kandalaksha) cost 200 roubles ($7) per person.   In Moscow that can easily be just the price of a cup of coffee!
Much fewer people than in "Kulinaria" in the same building, non-disposable dishes, and a decent toilet.  And vodka too! Prices are higher just a tiny bit.
But the selection of pastries in "Kulinaria" (same building, entrance from the side) can't be beat but that will be in a separate article.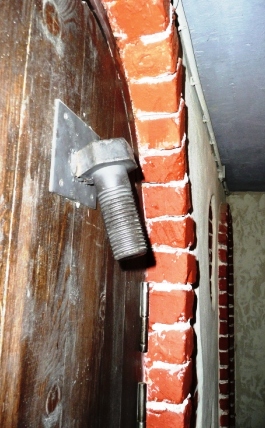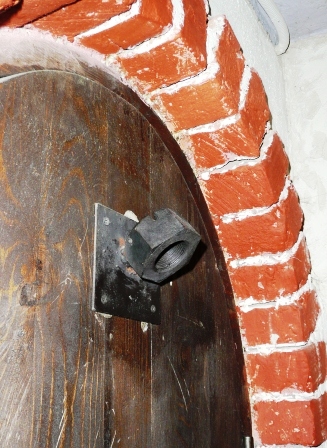 It took us some time to figure out which door is for ladies and which is for gents.
More to come.
Alexandra is way ahead of me in documenting the town, and especially Kandalaksha's cafes and restaurants >>
This Post Has Been Viewed 126 Times