The village of Kovda (permanent pop. 20) is on the Karelian coast of the White Sea but still in the Murmansk region, and now officially asigned to the town of Zelenoborsky (pop. 6550). 15th century maps already show Kovda, which makes it one of the oldest Pomor villages.
At the turn of the 19th century its population was about 1000, with three sawmills operated by Russians, British, and Swedes on the islands of the Kovda bay.
Today Kovda, with about 20 permanent residents, is used as a dacha settlement.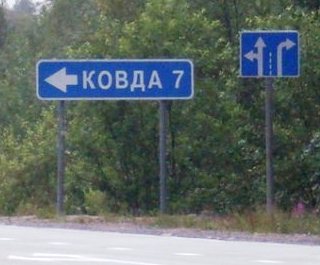 Getting to Kovda. Murmansk trains go through Kovda but not all stop there. There is a commuter train going from Kandalaksha to Loukhi, with a stopover in Kovda. The total distance from Kandalaksha to Kovda is 80km, or two hours by the commuter train. The distance from the Kovda station to the village itself is another 13km. There also is a Kandalaksha to Zelenoborsky bus that will take you right to the village. The distance from the main road to Kovda is 7km. On request I'll dig up and post the train and bus schedule but otherwise won't bother.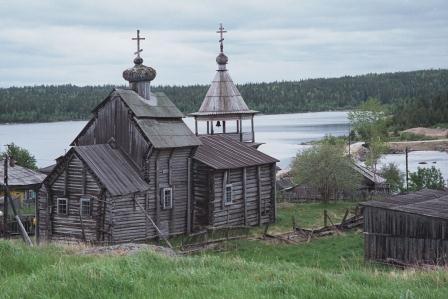 Attractions. This 17th century wooden church is considered Kovda's main point of interest. Some think however that not much left from the original, and consider the church an example of a crude and a barbaric approach to restoration. More about the story of this church's restoration here and here.
Another one of Kovda's claim to fame is 30 coffins with children found in the foundation of St. Nicolas church. More here, in Russian.
Science. Kovda houses a marine hydro-meteorological station, one of the oldest, founded in April of 1896. Those with deep interest in the history of these places may want to see Saint-Hilaire's reports from his 1908-1915 trip to Kovda.  Biological station "Our home" opened in 1974. It was set up by Galina Anatolyevna Sokolova and belongs to School No. 179 in Moscow.
This Post Has Been Viewed 527 Times