By Alexandra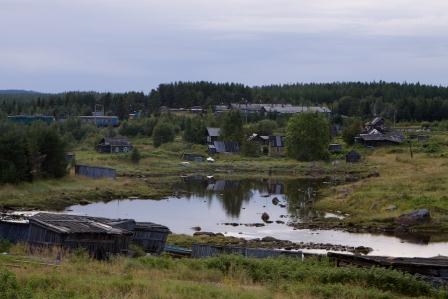 Poyakonda (Kandalaksha district) is known for two reasons: it is the birthplace of Venedict Yerofeyev, and it is near the White Sea Biological Station of the Moscow State University.
The village is first mentioned in 1563 documents. The name originates from Saami "payakonda" and means "edge" (of the bay).
Till 1916 Poyakonda was a humble seaside village the residents of whom where eeking a living from fishing, logging, and subsistence gardening. But in 1916 the construction of Petrozavodsk to Murmansk railroad branch had started, and on the 3rd of November 1916 trains started running, with Poyakonda as one of the train stations.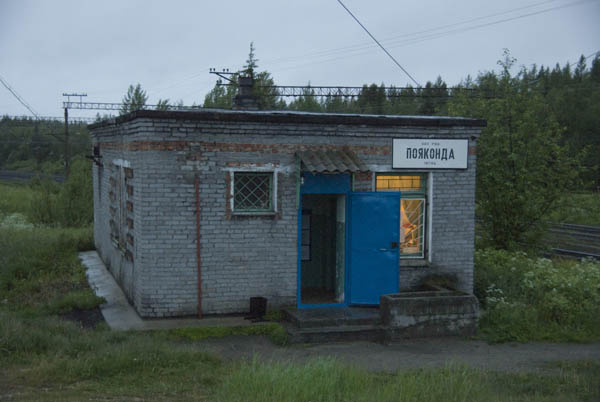 Presence of the railroad made things convenient for the prison camp system. The Solovki main camp maintained an outpost in the 20's to 40's between Poyakonda, the village of Rechnaya, and the island of Veliky where prisoners logged wood. For those interested how it was there I can recommend N.I. Gromov's Solovki Special Purpose Forest. Prison camp barrack remains can still be found on the island of Veliky. Remains of three barracks are by Ershovy Lakes east of the White Sea Biological Station, and one more by the lake on the hill by the Station. One point of interest is the so-called "prisoner's cubic meter", old-timers say it was used as a benchmark to establish prisoners' productivity at logging. See No.6 at http://wsbs-msu.ru/doc/view.php?ID=85. The barracks are there too.
Presently Poyakonda's population is about 100. Because of long history of neighbouring with the Biological Station the attitude to newcomers is friendly, and city people are called "Muscovites" no matter where they are actually from.
Telephone connection: OK Megafon in Poyakonda itself; MTS is weaker.
No hotels in Poyakonda. The White Sea Biological Station has a guest house but it is ONLY for those visiting the Station. The Station, however, can render paid services to travellers but only on the condition that vehicles are available, and only during off hours.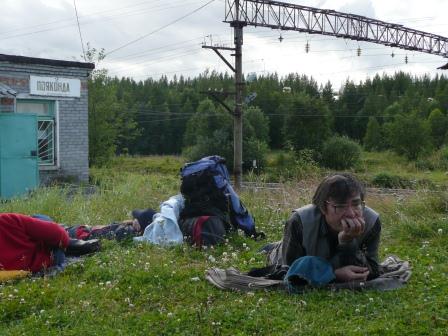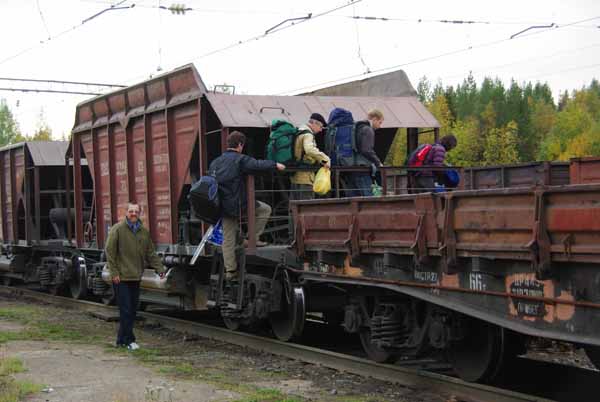 No tickets desk at the Train station, only dispatcher's office with a commuter train schedule. Fast trains don't stop at Poyakonda while commuters stop for 1-2 minutes. No announcements are made about train arrival so you need to concentrate to get on. The picture above shows travellers getting over a cargo train to get to the commuter one.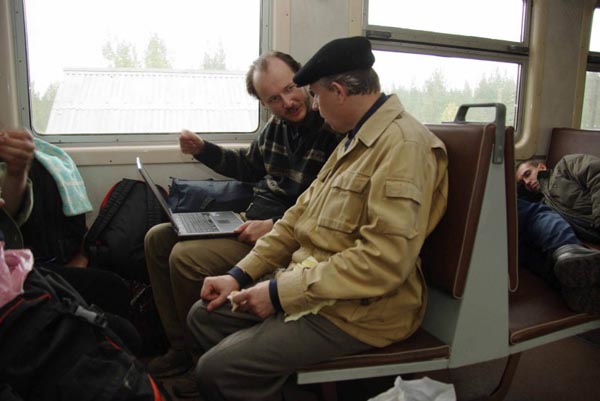 There is a three-carriage commuter train running once a day between Kandalaksha and Loukhi, with a stop in Poyakonda. The commuter train ferries fishermen-mushroom picker types, railroad workers, and researchers or students associated with the Moscow State U. Biological Station.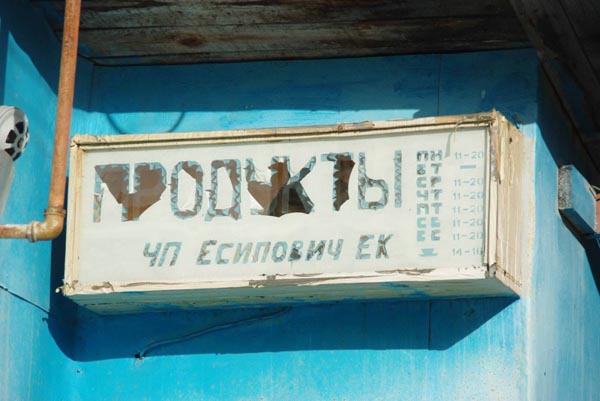 There is one small food shop in the village. Stuff is brought in once a week, Wednesday or Thursday. The store keeper complains she has no influence on what gets brought to the store. Hours of work 10am to noon, and then 5pm to 7pm. Sometimes the store gets closed for winter. Another option to get food is to visit the carriage store that travels between stations. The schedule is different every year so you need to ask the dispatcher or the locals.
The post office has been closed a long time ago.
Still, Poyakonda is quite popular with tourists, partly because that's where the railroad is right by the sea.
Cultural life
A remarkable woman settled in Poyakonda in  2011 – Anna Dmitriyevna Vital'. A geobotanist, a grand-daughter of two major biologists, academicians P.P. Sushkin and S.S. Chetverikov. Anna has spent her entire life studying northern flora while working at the Moscow State U. White Sea Biological Station. She earned herself a name by compiling a map of the Kindo Peninsula. She has also established and for many years cultivated the White Sea Station's botanical garden. Anna is an enthusiast of botanical tours on the Kindo Bay and other places. More about Anna Dmitriyevna and her scientific work see the White Sea Station site. After retirement Anna bought an apartment in Poyakonda that she has set up in her 
own style, beutified with paintings, and broke out a flower bed in front of the house. A lover of nature, Anna will do nature tours around Poyakonda. Those interested can find Anna in a two story brick house next to the station, on the 1st floor. Keep in mind that to participate in an excursion with Anna Dmitriyevna one needs to be on good shape. Even though she is well into her 70s it is easy for her to run most people to exhaustion.
******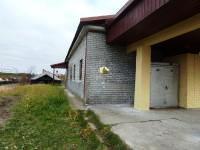 In August 2012 a bronze tablet was installed on the ever-closed waiting hall of the Poyakonda station, with the following inscription:
«Here was born, raised, and lives on a great Russian poet Venedikt Vasil'yevich Erofeyev.»
The idea to install this memorial tablet belongs to the group "Youth educational expeditions" on the island of Oleny, headed by Shamil Nevmyanov.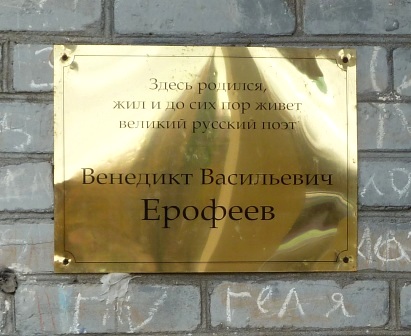 The above is based on literary materials and numerous personal visits to Poyakonda starting from 1980. Invaluable help was given by E.D. Krasnova, a science associated of the Moscow State U. White Sea Biological Station.
This Post Has Been Viewed 623 Times